Avett Brothers y Legend de CHAUVET Professional conquistan Fans
Publicado en abril 15, 2015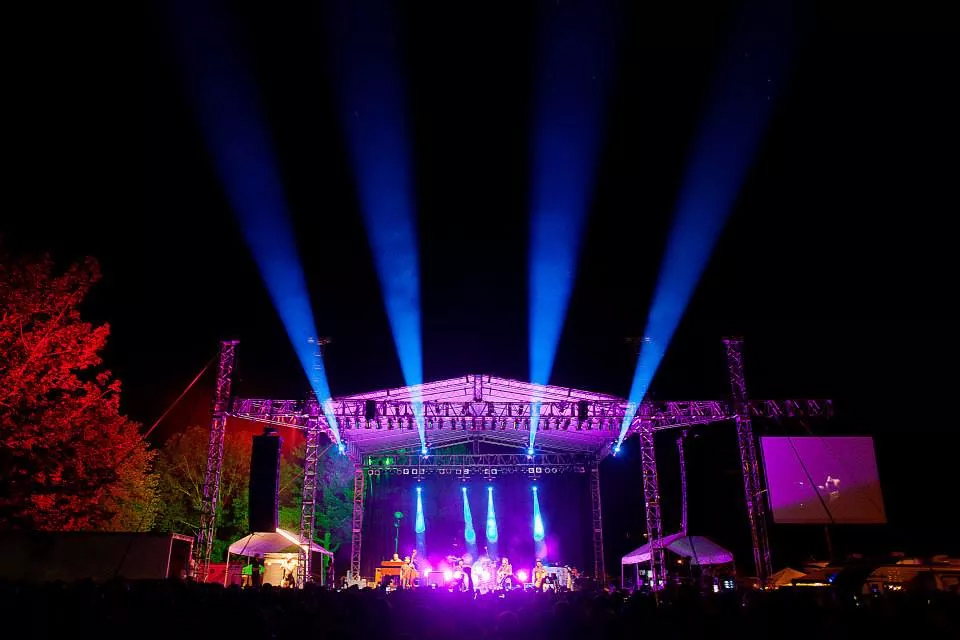 Nelsonville, Ohio – Muchos fans quedan impresionados cuando asisten a los conciertos de The Avett Brothers. Y hay muchas razones para ello: la complejidad y a la vez sencillez de los temas musicales de esta banda nominada al Grammy, mezcla de forma natural las raíces bluegrass del grupo con géneros que van desde el punk hasta el calipso o el ragtime.
Jeremy y Keith Harold de United Sound and Electronics también fueron profundamente impactados por el reciente show de esta banda de Carolina del Norte, y no sólo por la música (aunque quizá eso era suficiente), sino también por la potente salida de las Legend 330SR Spot de CHAUVET Professional, que se utilizaron para el espectáculo de iluminación del grupo.
«La Legend 330SRs realmente nos impresionó», dijo Keith Harold, quien es responsable de la iluminación de USE, y configuró la plataforma de la banda para el Festival de Música Nelsonville. «El responsable técnico del festival había alquilado las Legend a otra compañía porque The Avett Brothers necesitan una luminaria tipo spot CMY».
Después de trabajar con las Legend, los hermanos Jeremy y Keith tomaron una gran decisión. «Cuando vimos lo rápidos y poderosos que eran las Legend 330SR Spot, entendimos que teníamos que tenerlas en nuestro inventario», dijo Jeremy. «Así que vendimos muchas de las cabezas móviles que teníamos y las reemplazamos con estos equipos para la temporada de giras».
La Legend 330SR Spot está alimentada por una lámpara OSRAM Sirius de 330 watts, con la que produce 62,200 lux a 5 metros. Pero además de su potencia, Keith Harold vio otras características que lo impresionaron en el concierto de The Avett Brothers. «El acoplamiento entre las Legend y las intensas emociones de la música resultó genial», dijo. «Tengo que decir que con sus ricos colores y poderosa salida, jugaron sin duda el papel más importante para crear el estado de ánimo ideal para la música de la banda».
Un total de ocho Legend 330SR Spot se instalaron sobre el escenario de 12 x 12 metros del Festival de Música de Nelsonville para las actuaciones de The Avett Brothers y su número de apertura 'The Head and the Heart'. Cuatro de las ellas en la estructura fondo del escenario y cuatro más en la del frente, mezcladas con igual número de cabezas tipo wash.
La plataforma incluía varios equipos par 64 y 8 cegadoras dirigidas a la multitud. Una consola grandMA de tamaño completo fue utilizada para controlar el equipo de iluminación, creando toda una gama de emociones visuales para el programa de 22 animados y atractivos temas musicales que interpretaron The Avett Brothers.
Para establecer el estilo musical que define al grupo, la banda inició su actuación con una alegre interpretación con violín y banjo del estándar de los Apalaches 'Chuck Old Hen', y cerró con su versión calipso del exitoso tema musical 'Jumping in the Line' de Harry Bellefonte». La presentación incluyó también una selección de sus exitosos álbumes 'Magpie and Dandelion' y 'The Carpenter' enlistados entre los 10 mejores del Billboard.
«La riqueza de color en conjunto con la intensidad y nitidez de los haces de luz, nos dio la posibilidad de crear diseños que resultaron ideales para producir un gran espectáculo», dijo Jeremy Harold. «Todo salió muy bien con esta configuración. Estamos muy agradecidos con todos los involucrados en Nelsonville que nos ayudaron a realizar un gran trabajo, y por habernos presentado a la Legend 330SR Spot".