James Loudon Acentúa el Circus Big Top de Glastonbury con Ayuda de Fineline y CHAUVET Professional
Publicado en julio 7, 2022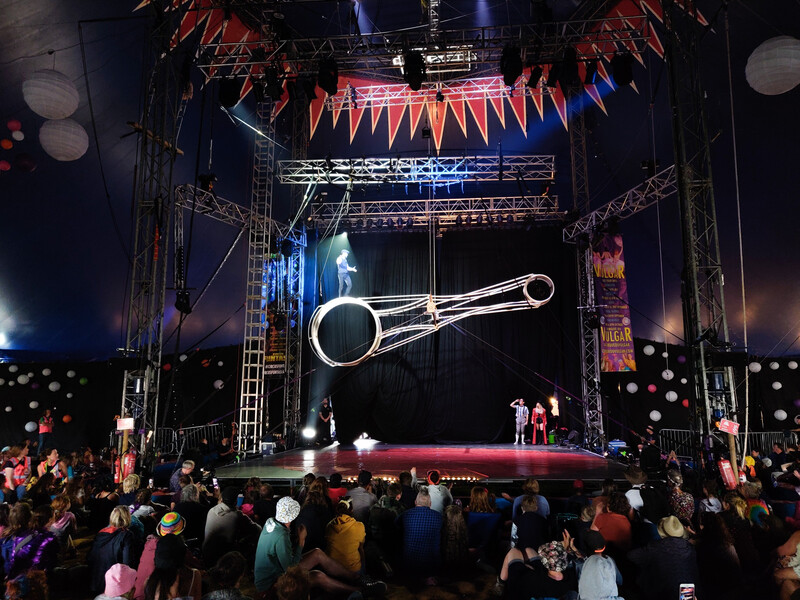 PILTON, UK – Es una vista común afuera de la carpa del Circus Big Top en el festival Glastobury: gente alejándose, sacudiendo sus cabezas aún asombrados por las asombrosas hazañas acrobáticas presentadas dentro de la popular atracción. Menos aparente para el aficionado casual, aunque igualmente impresionante por derecho propio, es la forma en que James Loudon y su equipo manejaron el intenso flujo de presentaciones en el lugar.
Por 14 horas diarias durante el festival, el Circus Big Top alojó 30 actos diferentes de un colorido surtido de trapecistas, acróbatas y otros artistas, muchos de ellos de compañías internacionalmente reconocidas como Briefs Bite Club y Deja Voodoo.
Asegurarse de que las cosas progresaran suavemente sin que se malgastara un solo minuto, fue todo un triunfo. Ayudando a Loudon y su equipo a completar este notorio logro, estuvo un plataforma de iluminación flexible proporcionada por Fineline Lighting, que incluyó 12 unidades de Maverick Storm 1 Spot y la misma cantidad de equipos Maverick MK3 Wash de CHAUVET Professional.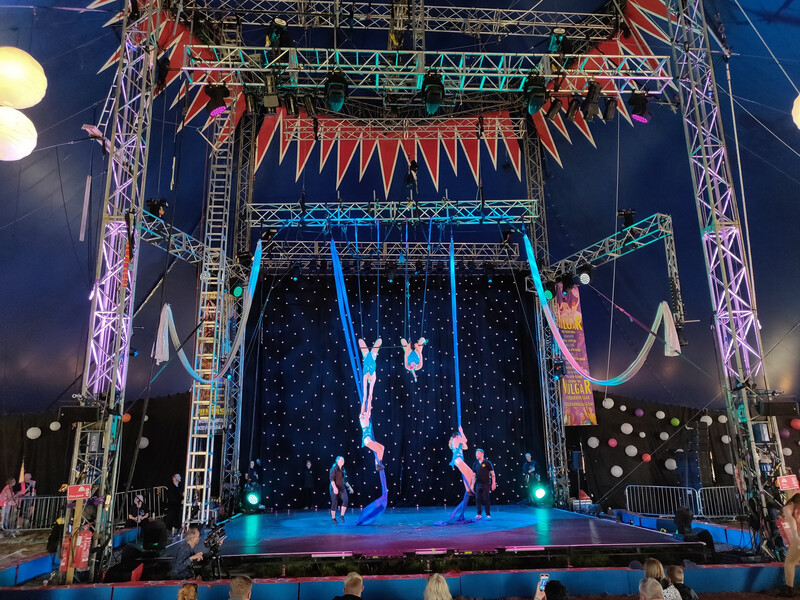 Loudon, quién empezó a iluminar el Circus Big Top en el Glastonbury hace 20 años, controló su plataforma de iluminación es su consola ChamSys MagicQ MQ500M. "Todo está programado, no improvisamos", dijo. "Diseñé la plataforma y programé el espectáculo de luz basado en las rutinas de los diferentes actos. Debido al volumen de actos que habían, debíamos tener todo preparado muy ráídamente. Los espacios para ensayos y presentaciones fueron progamados por minuto.
«Esta experiencia es intensa pero muy gratificante», continuó Loudon. «Algunas compañías traen a sus propios diseñadores de iluminación y sus equipos con ellos, y nosotros nos acoplamos y trabajamos con ellos a pesar de que hicimos el lote este año. Tengo un gran equipo de trabajo integrado por Tom Sulta, quien trabajó conmigo aquí la última vez en el 2019; y un nuevo integrante, Rory Lucas, que rápidamente se adaptó a las extrañas condiciones de trabajo y terminó planeando uno de los actos más exigentes en una sesión de programación maratónica que duró toda la noche. Además, el soporte que recibimos de Fineline siempre es excepcional".
Algunos actos dentro de la carpa son presentaciones cortas de cinco minutos, mientras que otras duran hasta una hora. El tono y tenor de los diferentes actos también varían, con algunos combinando comedia con acrobacias, y otras siendo de naturaleza más seria. Reflejar las distintas personalidades de los diferentes actos a lo largo de un periodo de 3 días, sin repetir los looks, representa un desafío, pero fue uno que Loudon manejó diestramente con ayuda de estos versátiles equipos.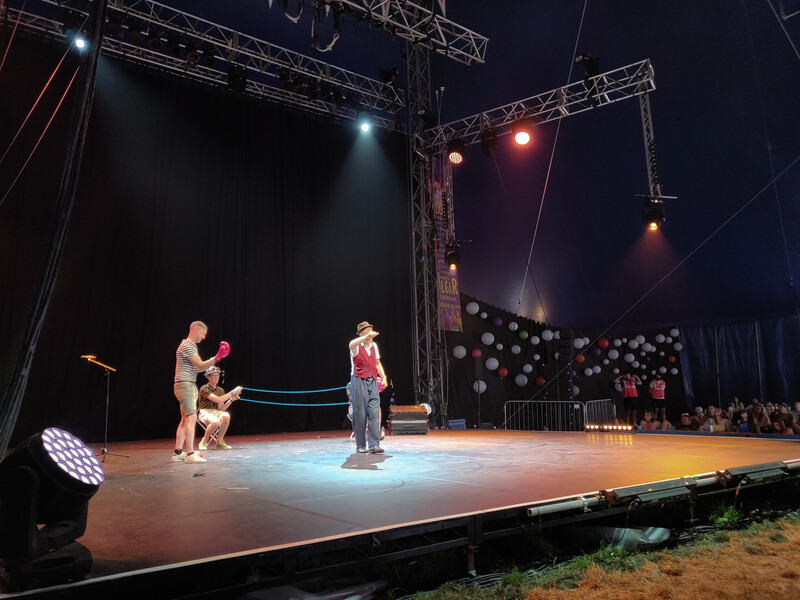 "La Storm 1 Spot me da bastantes opciones", dijo. "Su rango de zoom es genial, nos permite cubrir el escenario entero o enfocarnos en un solo actor. Sobre la MK3 Wash, ésta es la primera vez que uso este equipo, y debo decir que quedé muy impresionado por su enorme poder".
Aprovechando la función de gobos rotatorios de sus Maverick Storm 1 Spots, que estaban colgadas en rejillas de las truses superiores, Loudon texturizó el escenario durante algunas presentaciones con patrones de movimiento nítidamente definidos. Cambiar la forma y el color de esos patrones le permitió crear looks distintivos para diferentes actos. Rotando sutilmente en la plataforma del escenario, los gobos brindaron un agradable contrapunto visual al artista aéreo que actuaba sobre ellos.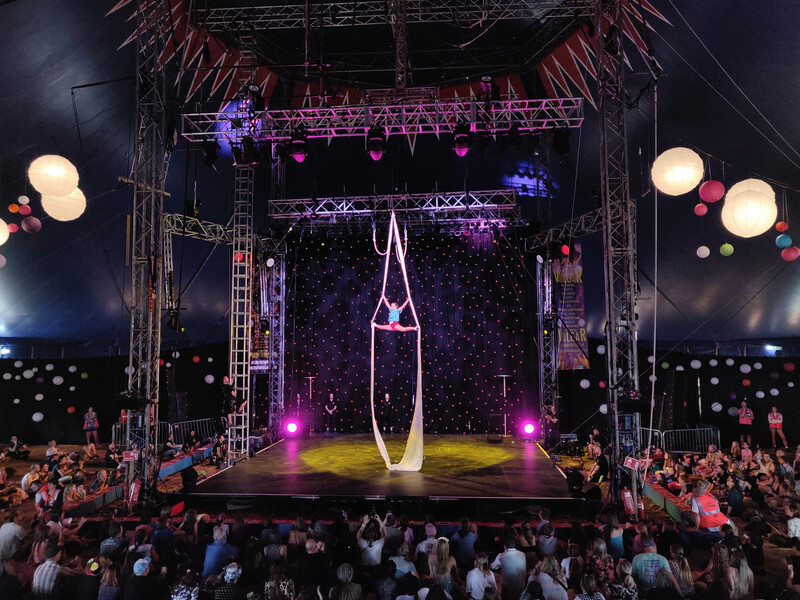 Mientras los equipos spot creaban cautivantes looks en el escenario, las Maverick MK3 Wash de la plataforma se sumaban al ambiente en toda la carpa con sus colores vivos. Ubicadas en la plataforma del escenario y colgadas en un truss, las luminarias RGBW se usaron para efectos aéreos y washes de color general.
"Este es un gran y fuerte wash que saca bellos colores", dijo Loudon. "La salida de esta equipo es genial para crear una luz de efecto buscador, y realmente me gustó su amplio diametro que lo hace una fuente de luz muy efectiva que también luce genial en fotos. También tuvimos un espacio tridimensional realmente grande dentro de la carpa, y la luz de la MK3 Wash lo llenó perfectamente".
El espacio dentro de la carpa fue igualmente ocupado por la gente este verano, The space inside the tent was also filled up very nicely with people this summer, ya que Circus Big Top atrajo grandes multitudes durante los tres días del festival. Los fans acudieron a la gran carpa esperando ser deslumbrados -y, de hecho, lo fueron- , pero la verdadera magia inició mucho antes de que el primer artista se parara en el escenario, cuando James Loudon armó su plan.
# # #